.
Manufacturing Process, electronic contract manufacturing, electronic manufacturing services: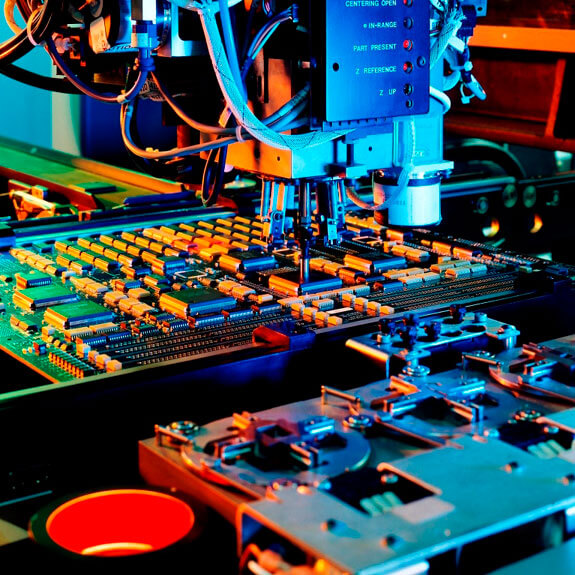 Established in 1993, CO-AX Technology, Inc. has become a leading electronic contract manufacturer providing top-quality custom design and engineering, prototyping, and manufacturing of printed circuit boards, cable assembly, and integrated electronic systems.
We believe that achieving product excellence requires rising above industry norms. CO-AX Technology, Inc. builds product quality into every step of the manufacturing process, and all applications are carefully designed and manufactured in full compliance with prevailing U.S. and International Standards.
The manufacturing processes at CO-AX Technology, Inc. equate to exceptionally high quality and absolute reliability in the final products.  Certified in ISO 9001, UL  and ISO 13485, CO-AX Technology, Inc. is completely committed to Total Quality Management (TQM) to ensure that each product meets with customers' specific requirements and exceeds their expectations to result in 100% satisfaction.
Our new, state-of-the-art manufacturing facility provides 110,000 square feet of manufacturing and assembling space.
Additionally, the company:
Employs an Automated Inventory Management System to drive the manufacturing process and ensure proper stocking.

Utilizes Automated Optical Inspection (AOI) and In-Circuit Tester (ICT) for quality testing.

Has Surface-Mount Technologies, Through-hole, and Flex Circuit Capabilities.

Uses Selective Soldering processes.

Has on-staff Ph.D. Engineers.

Employs a diesel-fueled generator, large enough to keep the entire manufacturing facility running upon power failure.

Utilizes wash capabilities.

Offers free local delivery.
Keywords: electronics manufacturer, electronic assembly services, electronic manufacturing services, electronic contract manufacturing companies, electronics manufacturer Ohio, electronic assembly services Ohio, electronic manufacturing services Ohio, electronic contract manufacturing companies Ohio, electronics manufacturer Minnesota, electronic assembly services Minnesota, electronic manufacturing services Minnesota, electronic contract manufacturing companies Minnesota, electronics manufacturer Michigan, electronic assembly services Michigan, electronic manufacturing services Michigan, electronic contract manufacturing companies Michigan, pcb board design, PCB Assembly, PCB manufacturer in USA states are Alabama AL Alaska AK Arizona AZ Arkansas AR California CA Colorado CO Connecticut CT Delaware DE Florida FL Georgia GA Hawaii HI Idaho ID Illinois IL Indiana IN Iowa IA Kansas KS Kentucky KY Louisiana LA Maine ME Maryland MD Massachusetts MA Michigan MI Minnesota MN Mississippi MS Missouri MO Montana MT Nebraska NE Nevada NV New Hampshire NH New Jersey NJ New Mexico NM New York NY North Carolina NC North Dakota ND Ohio OH Oklahoma OK Oregon OR Pennsylvania PA Rhode Island RI South Carolina SC South Dakota SD Tennessee TN Texas TX Utah UT Vermont VT Virginia VA Washington WA West Virginia WV Wisconsin WI Wyoming WY, electronics manufacturer in USA, electronic assembly services in USA, electronic manufacturing services in USA, electronic contract manufacturing companies in USA, pcb design, printed-circuit-board, cable manufacturing and assembly services, Box Builds, Industrial electronics, Medical electronics, Aerospace electronics, Transportation electronics,